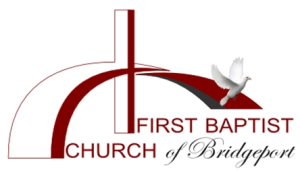 Our Mission and Vision
The First Baptist Church of Bridgeport has adopted the mentality to better the lives of our congregation and our community. We strive to go above and beyond to reach those of all ages, races, orientations, and circumstances. As our Vision Statement says, we are continuosly "Bridging the Gap Through Christ!", which stems from Ephesians 2:18-19. We also make it our objective to fulfill our Mission Statement which says, "Celebrating salvation through Christ, as we communicate the Gospel of Christ, while serving the community in the love of Christ.

Our History
The First Baptist Church of Bridgeport has a rich and lengthy history. First Baptist was founded in August of 1864 as the Colored White Lick Creek Baptist Church. Our beginnings were humble as we held services with different churches and locations in the Plainfield area. The founders built the first structure of their own in 1867 on a plot of land deeded by Uncle Samuel Starbuck. In 1869, the name of the church was changed to the First Baptist Church of Bridgeport as it is today. Throughout the next 100 years, First Baptist went through a number of members, pastors, splits, trials, and tribulations. However, with the grace of God and help from dedicated members, First Baptist continued to grow and flourish.
In April 1992, First Baptist was blessed to install Pastor Leonard Hiser to role of Senior Pastor. Under his leadership, First Baptist moved into its current building, built the adjoining fellowship hall, and elevated the spirituality of his congregation. Pastor Hiser was called home in August of 2011. The people of First Baptist will always remember the love and dedication of Pastor Hiser.
As years passed and our puplit hosted many ministers and pastors, God sent us Pastor Tony R. Guthrie in April of 2014. Since then, First Baptist has begun to embark on a new journey to carry out the vision God has given him. Under the leadershihp of Pastor Guthrie, we have completed many of the repairs and updates to our facility and grounds, as well as began to host our annual Community Day. We look forward to seeing where the Lord will take us as we continue to write the history of the First Baptist Church of Bridgeport.