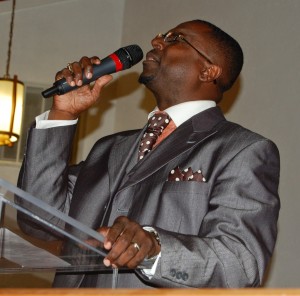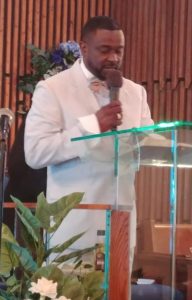 Pastor Tony R. Guthrie
Pastor Tony R. Guthrie has always had a love for Jesus Christ. He first professed his faith at the tender age of five years old, and preached his first sermon at twelve years old on Fenruary 25, 1979. He went on to join the United States Navy in July 1984, traveling the world and moving up the ranks to become Chief Petty Officer in 1996. His last tour of duty brought him back to Indianapolis where he served as a Medical, Dental, and Chaplain Recruiter. He then won several awards for his recruiting efforts. Pastor Guthrie now enjoys retirement and is employed as a National Recruiter for Bankers Life in Carmel, IN.
God continues to pour out His anointing in the life of Pastor Guthrie. In May 2008, Pastor Guthrie was proud to walk across the stage in front of family and friends to recieve his Bachelors of Arts Degree in Religious Studies from Martin University. He is also currently pursuing a Masters of Divinity Degree at the historic, Payne Theological Seminary in Wilberforce, OH.
Pastor Guthrie has devoted his life to demonstrating God's character and reflecting God's glory. In April 2014, he was elected and installed as the Senior Pastor of First Baptist Church of Bridgeport and quickl began carrying out the vision God had given him. Pastor Guthrie currently holds the titles of Academice Dean, Executive Board Member, and instructor of MLG Christian Academy/School of Ministry. Pastor Guthrie is also an active member of the Young Pastor's and Minister's Division of the Union District Association of Indianapolis, IN, in association with The National Baptist Convention, USA, Inc.
Pastor Guthrie is the faithful and loving husband to Rev. Jetona Guthrie and the father of four children: Hadassahh, Asia, Tyler, and Chase, with whom he enjoys spending quality time. A great lover of God's creation, his love for motorcycles, and especially the Harley Davidison, allows him to enjoy long rides during the spring and sumer months. Among his other pleasures are jazz, cooking, reading, current events, and attending Bible Teaching lectures, conferences, and seminars.